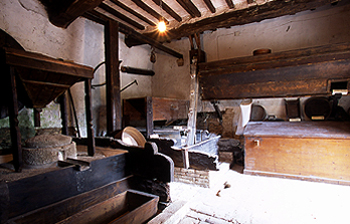 The Molanoce water-mill is reputed in Umbria as a piace with a certain magie aeura. It was built on a stone and wood structure, going back to the late Roman period and was used as a place to card wool. The present character is inbued by the presence of Benedictine monks who from the year 1000 onward dwelied in the nearby San Faustino Abbey. Troughout the centuries, walnuts were ground at Molanoce to obtain oil for votive lamps, it was also a place where hemp was treated. From the XVIIth Century onward it became the Stone-Mill for grinding grain, spelt and maize.

Restructured with original period materials, including its milling system, it is now open for guided visits for small tourist groups. The surroundings are renown for many Archeological Sites such as Carsulae (the Roman City), Roman bridges and paths on accessible Roman Roads, that are an integral part of the rural Umbrian landscape.
This part of Umbria is a confluence of high quality of meat, oil, wine, truffles. For this reason the Umbrian Gastronomic Association has choosen the Mill of Molanoce as its seat of operations.

A permanent exibition of Umbrian Artistic Craftsmanship (ceramics, textiles, ironwork), a show entitled "Grains and wheat Route" and the exibition of typical Umbrian gastronomical products (such as wine, oil, truffles, mineral-water) are some of the highlights framed at Molanoce. We also offer free samples of local products. In this way, we intend to give all tourists a warm WELCOME to Umbria.